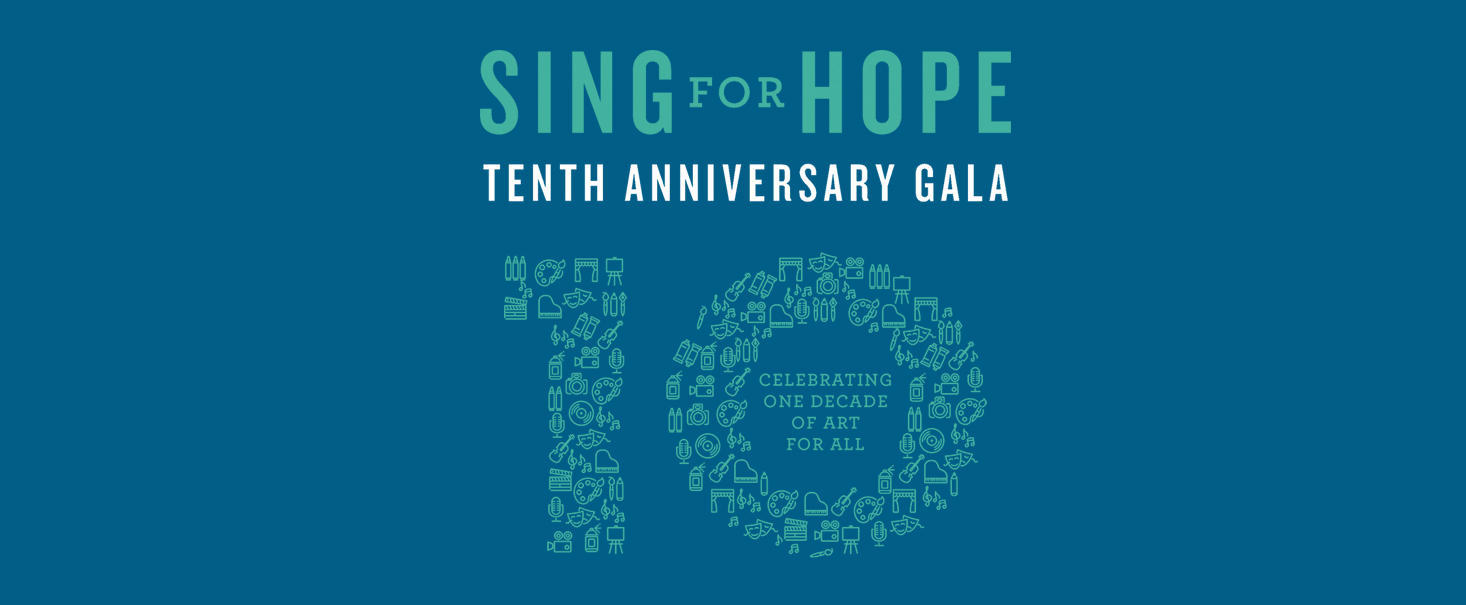 This special dinner and program will feature performances by leading stars from Broadway and Lincoln Center, and will honor our Sing for Hope First Decade Champions, a group of change-makers who have been instrumental to the ongoing success of Sing for Hope.

Sing for Hope First Decade Champions
*Joseph Benincasa      *Michael Bloomberg      *Joseph Flom (in memoriam) & Judi Flom
*Paula Gavin      *Pamela Gillies      *Arianna Huffington      *Deborra-Lee and Hugh Jackman
*Alicia Keys      *Billie Jean King      *Steven Kolb      *Kevin & Marina Krim
*Kate Levin      *Reynold Levy      *Yo-Yo Ma      *Isaac Mizrahi
*Luis Moreno      *Sally Osberg      *Ronald Perelman      *Joseph Polisi
*Carlos Rodriguez      *Donald & Shelley Rubin      *The Rudin Family      *Deborah Rutter
*Linda Saul Schejola      *Julian Schnabel      *Lekha Singh      *Jeff Skoll
*Martha Stewart      *Hamdi Ulukaya      *John Varvatos      *Jim Woolery      *Diane von Furstenberg       
The Sing for Hope Founders' Circle
*The Arnhold Foundation in loving memory of Sissy Arnhold
*The Anna-Maria and Stephen Kellen Foundation
*Ann Ziff
Since 2006, Sing for Hope's arts outreach programs have brought hope and inspiration to thousands of individuals in under-resourced schools, public hospitals, hospices, veterans' centers, after-school programs, neighborhood centers, nursing homes, and disability networks. To date, Sing for Hope has partnered with over 220 nonprofit organizations, involved over 3,500 artists in community volunteerism, and placed over 330 artist-created Sing for Hope Pianos throughout NYC's parks and public spaces for everyone to play.

For more information or to purchase tickets or tables, please contact the Sing for Hope Special Events team at gala@singforhope.org or 212.966.5955. Limited seating.